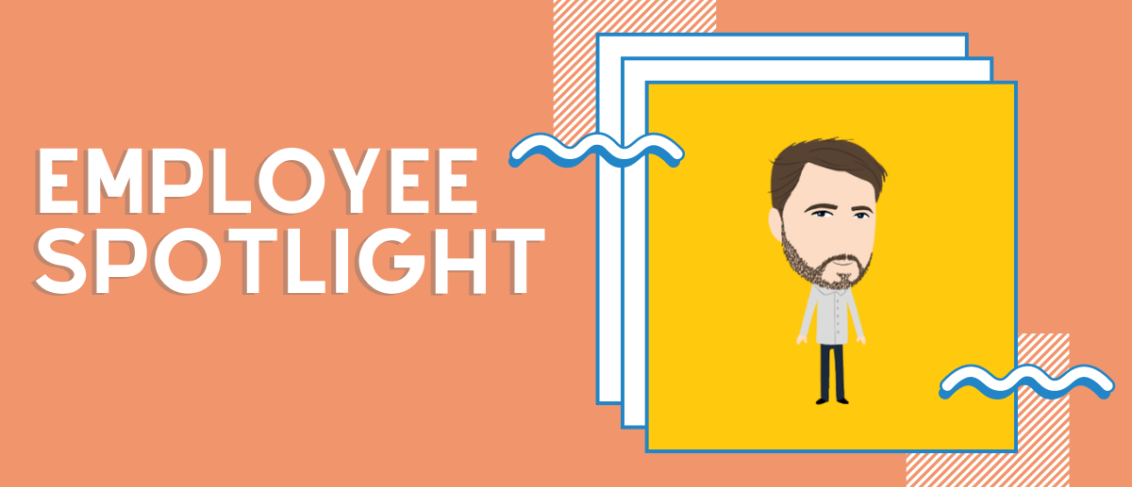 Employee Spotlight: Jon White, Business Development Director
Our final Employee Spotlight blog for 2020 features Business Development Director Jon White. Jon has been working at Makematic for a year and a half now! This month we spoke to him to find out more about his role in the company.
How did you get your job at Makematic?
I'd finished a long term consultancy project and saw the role based in Brighton where I live with my family. I met Mark our CEO and we got along well. There was a shortlist process which felt a bit like The Apprentice (or so the 4 of us involved thought!), where we had to prepare presentations for the Board in Belfast. Little did we know that Mark had roles in mind for all of us and so the commercial team was born!
On a day-to-day basis, what are your responsibilities and priorities?
I am developing the publishing sector for Makematic although my focus is moving more widely across other sectors too now. I have a wide network of contacts across publishing and technology, and my overall aim is to form large and lasting relationships for Makematic with these which always start at smaller projects. I also spend a lot of time finding new people to talk to via networking and LinkedIn. I spend a lot of time on LinkedIn researching and contacting people and businesses that we'd like to do business with. In tandem, I make a lot of calls and right now meet people via Zoom. Before Covid, I spent a lot of time out at meetings both here, in Europe and in the US as well as at conferences and trade shows. All meetings are done via Zoom now - I have been to two face-to-face meetings since February! I've attended conferences and recently chaired a panel discussion at Futurebook 2020 which was online this year. On a day-to-day basis, my over-arching goal is to bring in first smaller pilots and then larger projects with a variety of different new clients. In the last month or so I've been involved in formulating our business development strategy for the next 3 years. I write a regular blog and target various trade shows and conferences for speaking slots where we're best able to influence the discussion on short-form educational video content.
How do Business Development Directors collaborate with other teams in the company?
At the moment I'm the eyes and ears for the sector that I'm targeting, so I feed a lot back to the senior team. I cross over with the creative teams in that we have a handover process when a project is secured and then throughout the creative process for any single project, I'm kept up-to-date with progress. I collaborate with the marketing team in so much as I write a regular blog and feedback any market knowledge which is important to our overall cause. This will up a gear as the business grows. I collaborate the most with Mark - we're in contact regularly about various clients, proposals and contracts.
Business Development tends to touch most areas of any company as well as being the external presence and force in terms of securing and commercially managing customers. From that perspective, I really enjoy the variety. I have to have a wide and deep knowledge of all the different areas of our business and the sectors which we're targeting.
Are you working on any big projects?
Yes! We've had a lot of success with one of our multiple-project clients this year and the relationship is turning into a bigger and closer one next year. At this stage I can't reveal all - but it's going to give us the opportunity as a business to really show our creative flair and be financially recognised for that because we'll earn product royalties as well as production fees for our involvement with a globally renowned brand.
What's an important lesson you've learned while working at Makematic?
Just get on and do it! That sounds a bit too close to Nike's famous tagline, but the reality is as a small and rapidly growing business, I've seen that the best way to make sure the things I need to do are done, is just put my head down and get on with it. It's particularly relevant in the business development world in a year whereas a naturally gregarious person, I've been shut in a tiny office in our home with only 2D human interaction. I've just had to get on and do it. We are a very innovative and talented company and the feeling of having such a strong and talented team to deliver projects that I find is a good one. To begin with, at Makematic, I was shooting in the dark to some extent (excuse the pun), in that I wasn't totally familiar with the phraseology, workflows and processes for our creative sector. I also had to work hard at learning would make the best customers. So overall it's been a process of just getting on and doing it, making mistakes, learning along the way. I contact people I know, I annoy people I don't know, I hustle for meetings and push for projects and contracts. Using this approach, everything else has fallen into place.
In case you missed it, read our four previous Employee Spotlight blogs featuring Kyle McGeagh (Content & Distribution Coordinator), Caoimhe Sweeney (Motion Graphics Designer), Conor McKelvey (Motion Graphics Designer), and Ryan Lee (now Producer!).
Let's Work together
We're a team of media professionals and educators that want to inspire a generation of global learners through smart, engaging educational content they love.