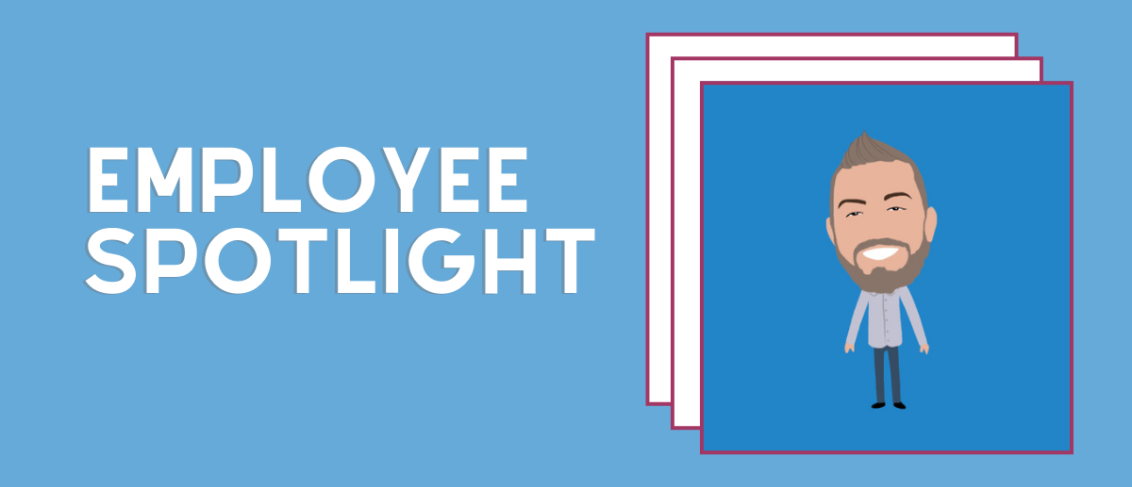 Employee Spotlight: Lee Henry, Scriptwriter
Have you ever wondered what goes on behind the scenes when we create our videos? This month, we spoke to Scriptwriter, Lee Henry who has been at the company for four years! He discussed how he got his role at Makematic, his responsibilities as a scriptwriter, and much more.
How did you get your job at Makematic?
Having previously worked as a marketing executive in a shared office space in Derry, where Makematic also had a desk, I knew Mark and Catherine a little before coming on board. I've spent most of my career working as a feature writer, and at one point I interviewed Catherine for a national newspaper – so they knew I could write. Soon after, I got an email from Mark asking if I would be interested in some freelance scripting work. We met in a restaurant – I remember it as a kind of De Niro / Pacino face off a la Heat – but with chicken goujons. I jumped at the chance and came on board full-time at the beginning of 2018.
On a day-to day-basis, what are your responsibilities and priorities?
My main responsibility is scriptwriting. I work across most projects at Makematic, so one day I could be writing up a professional development script aimed at teachers, the next an animation on American history aimed at students. I work from cheat sheets drafted by our development team or a variety of educationalists, so it's my responsibility to ensure that the information there is translated into something that is engaging, informative and easily animated. Clients then feedback on first drafts, so it's my responsibility to redraft scripts before locking. I also work closely with producers to ensure that scripts are the best they can be, and with freelance writers, when the workload dictates, editing their work before it ships off to the client. Aside from scripting, I chip in where needed: proofreading additional educational resources, writing up entries for industry awards, wherever I can help. But my number one priority is making sure that all scripts are written and locked on time. My mantra is: production will never be held up due to scripting.
How does a Scriptwriter collaborate with other teams within the company?
My first port of call is probably our development team. They provide cheat sheets and also fact check all scripts, so I'm in constant contact with Tara, Brandon and Egon. I also work closely with our production team. Our producers assign me work in Asana, the work management system that we use at Makematic, and often input directly into scripts. Then Melissa Hodder, our Project Manager, schedules my day-to-day work in our Master Schedule, so everyday I know exactly what I need to do. Although I'm not necessarily in daily contact with the wider Makematic team – our animators, for example – we all work on the same projects and videos, so it's a constant collaboration across all departments.
Are you working on any big projects?
I'm currently working on a top-secret pilot project that I am very, very excited about. It involves writing scripts about books, and as a lifelong and passionate bibliophile, there is nothing more exciting or rewarding. I also write most of the scripts for Untold, a huge video resource for teachers and students, telling the stories from American history that don't always crop up in the classroom. I studied history at university, so again, it's a huge thrill and privilege to spend my days learning and writing about American history. I've learned more about it scripting for Untold than I ever did at university! I hope to learn much, much more.
What's an important lesson you've learned while working at Makematic?
Collaboration is key. When I joined Makematic, I had very little experience in scriptwriting, having worked mainly as a feature writer. Without Mark and Catherine's daily input, at the beginning, I may have floundered – so I owe them an immense debt of gratitude for helping me to learn the craft. I've also learned so much from all other members of the Makematic family, who taught me how the production process works, particularly with regards to animation. Nothing is achieved in film production in isolation. We are all part of a wider community of creatives and educational experts who come together to add our skills, experiences, and opinions to the mix, and the finished product is all the better for it. If you want to work as a scriptwriter, be aware that you can be an important cog in the wheel, but no script comes alive without the input of others: producers, clients, animators, researchers. Lots of people will put their stamp on scripts at some point in the process and so learning how to digest feedback, take it on board and work with it, and not against it, is vitality important. Nothing makes me happier than seeing a finished video featuring a line that I didn't write – a line that a producer may have added or tweaked a little later in the process. Whatever it takes to make the finished product the best it can be, that's all that matters.
---
Lee has had his hand in nearly all videos that Makematic has created. From Adobe Education Exchange, Amazon Studios, and our American history and civics series, Untold. Check out this video of DJ Kool Herc (Lee's idea!), which has recently gained recognition by the organization Black Lives Matter on their Instagram page!
In case you missed it, read our previous employee spotlight blogs featuring Project Manager Melissa Hodder, Rights Executive Shirin Edwards, and Senior Animator Daniel McGarrigle.
Follow our social media pages for updates on future blog posts and for the latest Makematic news.
Let's Work together
We're a team of media professionals and educators that want to inspire a generation of global learners through smart, engaging educational content they love.