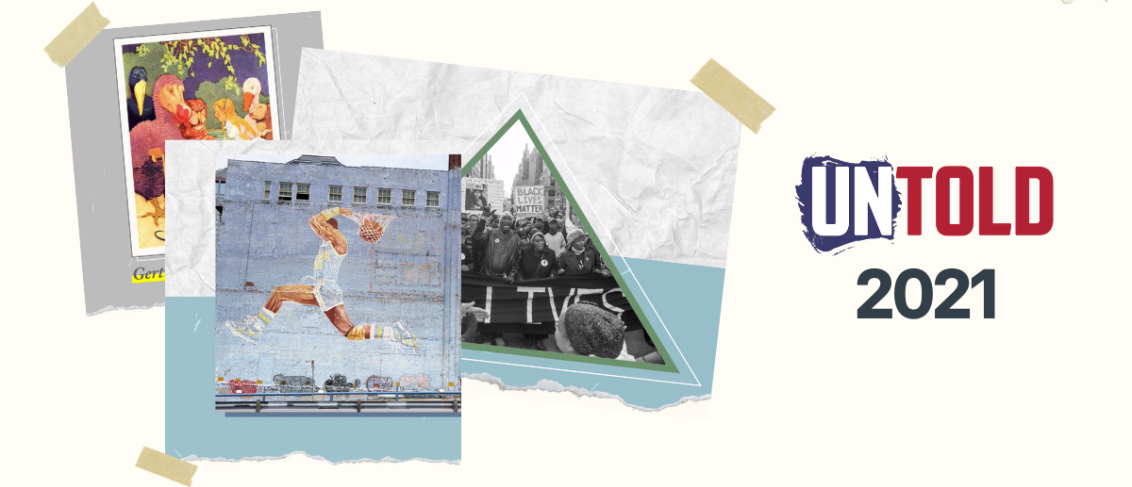 What's New For Untold 2021?
In 2020 we launched Untold, a collaboration with Driving Force Institute for Public Engagement, USC Center for Engagement-Driven Global Education. A free collection of short, compelling history videos and animations designed to shine a light on stories that don't make it into the classroom and to question what we think we know about those that do. We believe that not everything worth knowing exists inside the cover of history textbooks. Untold has been created to fill in the gaps and bring new stories to life.
Let's recap on some of the content that we released last year.
2020 Recap
Women and the American Story
Produced in partnership with the New-York Historical Society, this series on Women in the American Story illuminates diverse women's contributions to the American past. You can visit the WAMS project here. Or see the videos in series one here. What is unique about this project is that the New-York Historical Society Teens Program participants co-produced the videos with our team. What does co-produce mean? They researched, scripted, and reviewed the videos that were created. And when you watch them you'll see the care and attention they took in creating these with us.
Academy of American Democracy
Created in partnership with the New-York Historical Society as part of their Academy of American Democracy project, this series looks at the links between the roots of democracy in ancient Athens and modern-day democracy in the USA. You can check out the videos here. Some of the titles include - Art as Activism, Designing the US Constitution, and Slavery in Democracies.
What's New in 2021?
This year we have a plethora of new titles to share with you, new partnerships to talk about and new strands to choose from.
New Strands
This quarter we are excited to announce two new strands: Art That Changed America and Things You Need To Know.
Art That Changed America looks at how a piece of American art or movement impacted the world. The arts will include visual art, dance, music, architecture, theatre, literature. Here is a sneak peek at some of the themes:
-- What the Ball Culture of NYC actually is and how and why it started,
-- In the infamous War of the Worlds 1938 broadcast,
-- What the Chicano Arts Movement has to do with Civil Rights,
-- What the White House design symbolizes
-- How and why protest music has been used to bring about change.
We've released three videos this week. Check them out.
-- Graffiti: Street Art or Vandalism?
-- Photojournalism
-- The Golden Age of Illustration
The Things You Didn't Know strand looks at events, periods, and historical concepts and provides viewers with information that is rarely found in textbooks with the aim of broadening the viewers understanding of the topic, challenging the textbook narrative, or asking them to look at events or historical period from another lens. Here is a sneak peek at some of the themes of the videos:
-- Cats were CIA operatives during the Cold War, (yes I did say cats)
-- Blood was literally spilled over the equal rights amendment
-- That some of the founding fathers were slave owners
Check out the title we released early for Thanksgiving. Did you know they may not have introduced the tradition of Thanksgiving, that they robbed graves and enslaved Native Americans? Watch the video here.
New Titles
We also have a range of new titles in our regular series: America Explained, Museum of Artifacts that made America, Hidden Figures.
Some of the things you'll discover:
-- The exploits of Newton Knight, Mississippi farmer during the civil war, who 'deserted' and created The Knight Company - a band of freemen and enslaved people - who fought against the confederacy
-- How tongue pie, dressed turtle with veal and stewed calves head was on the menu for some colonial Americans
-- Balloons were used during the Civil war for reconnaissance
-- That women fought and were prisoners of war during the American Revolution.
In The Pipeline
American Power & Women and the American Story - Series 2
We are working with the New-York Historical Society on two productions this year - American Power and Women and the American Story - Series 2. Both series are aimed at middle or high school audiences and will look at the American Presidency, the Executive branch, and Women in American History.
Untold Kentucky
We are working with Kentucky Valley Educational Cooperative to create content that delves into the interesting history of Kentucky, and how it has influenced wider American history. Have you heard of African-American inventor Garret Morgan? A prolific inventor who amongst his many inventions is responsible for inventing the modern traffic light. Or did you know that both Civil War leaders - Lincoln and David were both from Kentucky? Or have you heard about the story of abolitionist John Brown and how one of the many pikes he had commissioned for a failed insurrection is in a museum in Kentucky?
We are also creating our first Untold professional development offering - Using Media in the Social Studies Classroom. This will be a badged series. More information to come soon.
American Battlefield Trust and iCivics Collaboration
We have exciting new partnerships with the American Battlefield Trust and iCivics who are spearheading some of the content we are creating this quarter.
The Untold Pitch Competition
We are working with High School High in San Diego to pilot the Untold Pitch Competition. High school students will be pitching their ideas to the Untold team and the winning titles will go into production later this year.
As you can see this project is going from strength to strength, but we need your help!
We Need Your Help
We are always looking to speak to educators about the content we are creating and how we can make it better suit the needs of your curriculum. If you'd like to be involved in the Untold Advisory group, please contact the Director of Engagement Tara Walsh to express your interest. It's a year-long commitment but it has an important role in helping us create curriculum-relevant content.
---
Find out more:
Visit the Untold website to access the videos that have been released.
Watch our webinar with Share My Lesson - Teaching the Untold American History with Multimedia. You can collect one-hour of PD credit. A certificate of completion will be available for download at the end of your session that you can submit for your school's or district's approval.
Follow Untold on social media. Untold is on Twitter, Facebook, and Instagram. Three videos per week are released and notifications are always via social media.
Let's Work together
We're a team of media professionals and educators that want to inspire a generation of global learners through smart, engaging educational content they love.