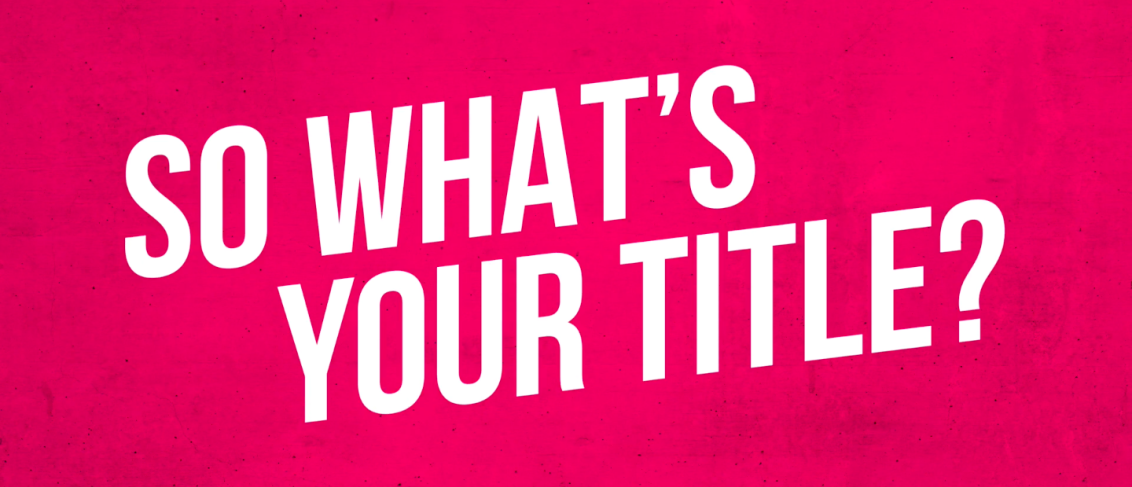 What Makes the Perfect Video Title? (DOs and DON'Ts)
It's getting exponentially harder to get your videos noticed on any platform. The market continues to get oversaturated, but worry not though! Here are some Dos and Don'ts to make your video title stand out from the crowd.
After reading, why not check out our Adobe Social Media Video Course for some more insightful advice on how to create impactful videos for social media!
DO - Be Specific yet Succinct
Google truncates page titles at approximately the 66 character mark. Any longer and you'll see an ellipse (...) at the end of your title. Since YouTube automatically adds "YouTube –" to the beginning of every view page's title tag, you're already 10 characters down before you even start. " via. 5 Keys For Creating Viral YouTube Videos.
You have a fifth of a Twitter tweet to get your video's main narrative across - not much is it? Be open to the challenge however, we'll provide some further tips down below to what you should place in your title.
DON'T - Be Afraid To Grab Their Attention
Now, don't assume I'm advocating for click-bait titles, let's not go too crazy! However, it's an increasingly growing trend, especially on YouTube and TikTok. Be descriptive yet enticing at the same time. Don't undersell your creation, it'll lose you on viewer engagement.
Let's use a rather, ordinary activity as a vlog example.
Which would you rather click on (if you had to):
Of course, it's unfair to compare two videos that have different publish dates, subscribers and overall viewer reach. However, I think it's safe to say that Video Title #2 is more enticing as it tells a better narrative than just another 'vlog of me walking the dog', it creates intrigue and is a creative way to turn a mundane event into something viewers would want to see.
Another example we found, was from our Barbican video course with the Department of Culture, Arts & Leasure. The aptly-named "Make A Plant That Tweets When It's Thirsty" - if that doesn't pique your curiosity, I don't know what will!
DO - Capitalise with the Occasional UPPERCASE
Hierarchy matters and despite it being a pet peeve by some people - Capitalising all main words helps provide a more professional tone for your videos - this is also assuming that grammar has been checked in advance.
The overuse of entirely UPPERCASING titles has thankfully started to dwindle in popularity, but that's not to say you shouldn't consider fully capitalizing the odd word or two - we recommend two shorter words or one long word at most.
Why does it matter? Our minds are naturally drawn to capitalized letters as it is more dominant on-screen - the more you emphasize a word on-screen the more priority our brains provide to read it. Our brain loves to make shortcuts and providing some sense of hierarchy to your wording can help get you that elusive viewer click.
DON'T - Forget Your
Key

words

SEO is KING and to truly dominate online video, it must be taken into serious account. In recent years, it's not just viewers you're trying to attract to get your videos seen, it's the hidden site algorithms that you have to appease. Search engine optimization is your new best friend in that regard.

While taking into account your character limitations, priority must be on making sure that the keywords you utilize, best fit the theme of your videos for example if you're making a compilation? Try using BEST or TOP. Whichever niche you wish to create for, it's always a good idea to put yourself in the viewer's perspective and ask "What would the viewer search for to find my video?".

Remember you also have your video descriptions to fill out more of the relevant keywords for your content. The idea is to make both the viewers and the streaming platform as easily aware of where your content fits as possible.
DO - Get Numeric
We delve more into this topic within our 'Why Our Brain Loves Lists' blog, but statistics show that our brain becomes more accessible when numbers are utilized - it simplifies complex prose and helps the viewer to understand what the video is about in shorter times. This is especially vital for non-English speaking natives as numbers are universally more recognized in most forms and can help bridge the cultural and linguistic gap to open your videos to new demographics.
Utilizing a numeric structure for your video content also can help with your pre-production workflow. By setting a numeric limit on your content topics - you should be able to fill in more vital tips, advice, facts, etc. while not needing to divert into filler as a means to bridge gaps. Organization is key and numbers are a basic block that we can use to help provide some order and lessen that workflow chaos.
DON'T - Skip Analysing Your Competitors
I'm assuming you're reading this and getting new into the 'video production' game, but regardless of what stage in your content creation days you're in - it's always vital to see what similar competitors to your work are doing.
Even if you're up against corporate juggernauts of online video, if you see opportunities you can improve your A-game to their level of reach (i.e. branding, graphics, weekly video scheduling, pace, etc.), then it's essential advice that can help to improve your overall content. Making small to long-term goals for your content platform is a great tool for increasing the quality and durability of your videos.
Don't be disheartened, you'll find many of channels that have failed also, analyze them, try to decipher what caused their declines to avoid making the same mistakes.
Let's Work together
We're a team of media professionals and educators that want to inspire a generation of global learners through smart, engaging educational content they love.