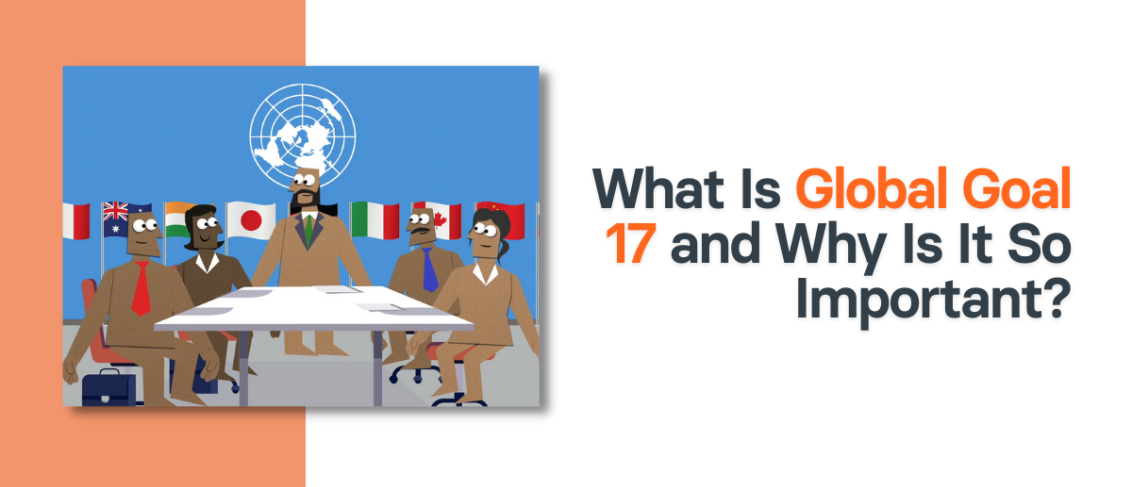 What is Global Goal 17 and why is it so important?
As a geography teacher, sustainable development is a topic I have always been passionate about. I remember as a geography student in secondary school, we covered some fascinating topics like appropriate technology (e.g. sending a tractor to sub-Saharan African countries would do them more harm than good) and cash crops. This was when I first understood the need for healthy partnerships that are sustainable and don't create centuries of enduring exploitations. Fast forward to now, almost 20 years on, and I am rediscovering this topic through Makematic's video series on the Sustainable Development Goals (SDGs). In this article, I hope to inform those who are not yet familiar with Goal 17 - Partnerships for the Goals and highlight its importance, in an educational context, to achieve these goals by 2030.
Before diving in, I just want to share this staggering statistic I found. 54% of the UK public are not aware of the SDGs, according to a YouGov survey last year.
If you read my previous blog on COP26 and the climate crisis, you will understand why this is worrying. But perhaps this figure is different amongst educators and as a matter of fact, why don't we find out? How much do you know about the SDGs? Have you incorporated it in your lessons before? Make sure you fill in the very short survey I created at the bottom of this article. I will share the results in my next blog.
What are the Sustainable Development Goals?
As quoted from the UN website: "The 2030 Agenda for Sustainable Development, adopted by all United Nations Member States in 2015, provides a shared blueprint for peace and prosperity for people and the planet, now and into the future. At its heart are the 17 Sustainable Development Goals (SDGs), which are an urgent call for action by all countries - developed and developing - in a global partnership. They recognize that ending poverty and other deprivations must go hand-in-hand with strategies that improve health and education, reduce inequality, and spur economic growth – all while tackling climate change and working to preserve our oceans and forests."
Note the "global partnership" in bold. This is what Goal 17 is all about.
What is Global Goal 17?
"Strengthen the means of implementation and revitalize the global partnership for sustainable development"
So what does this mean? Just like in a sports team, or your team in the workplace, we set goals all the time. Implementing them is a whole challenge in itself and this requires working together in partnership. Collaboration, cooperation, alliance, joint effort, teamwork… however you want to call it!
Check out this video we created to learn more about Goal 17:
Why is Goal 17 so important?
'Collaboration is multiplication', as Tim Black from Bitesize SDGs recently said to me (follow them on Twitter!). As the final call to action, Goal 17 can be seen as the linchpin to all the other sixteen goals.
'Collaboration over competition' - This would be my message to match Tim's (I should credit this TED Talk by Jason McEvoy for being enlightened to this idea). In our outdated education system that breeds competition over collaboration, educators should consider Goal 17 as a spark for a shift in mindset. Young people should learn how to develop partnerships and build collective intelligence within their classroom, local community and even international connections. Not sure how?
On 11th January 2022, we will be running a TeachMeet workshop focusing on Global Goal 17, where educators in different countries will gather to share ideas and experiences of incorporating SDGs into the curriculum. We will be running a Lesson Design Sprint where small groups of teachers will brainstorm together and build out a lesson plan around one of our SDG videos.
It is also a chance to hear from fellow educators who are experienced in teaching the SDGs through case studies from their schools. Here are a couple of Teach SDGs ambassadors that will be joining us:
Tim Black, primary school teacher & creator of Bitesize SDGs from the UK, is based in Paris.
Ronald Nober, technology & STEAM teacher, creator of TeacherNerdz in New Jersey. By the way, Ronald has already shared with us a case study of how he integrates the SDGs into his lessons through project-based learning. Check out his blog here.
So, what are you waiting for? Click here to join the event! Or simply email egon@makematic.com
Short Survey on SDGs Awareness
We'd love to hear from teachers worldwide, regardless of the subject or age group they teach. Click here to take our very short survey and we'll share the insights in our next blog in January. Do share also with any other teachers you know.
As always, feel free to connect with me via Twitter or LinkedIn.
Follow Makematic on Twitter, LinkedIn, and Facebook.
Let's Work together
We're a team of media professionals and educators that want to inspire a generation of global learners through smart, engaging educational content they love.