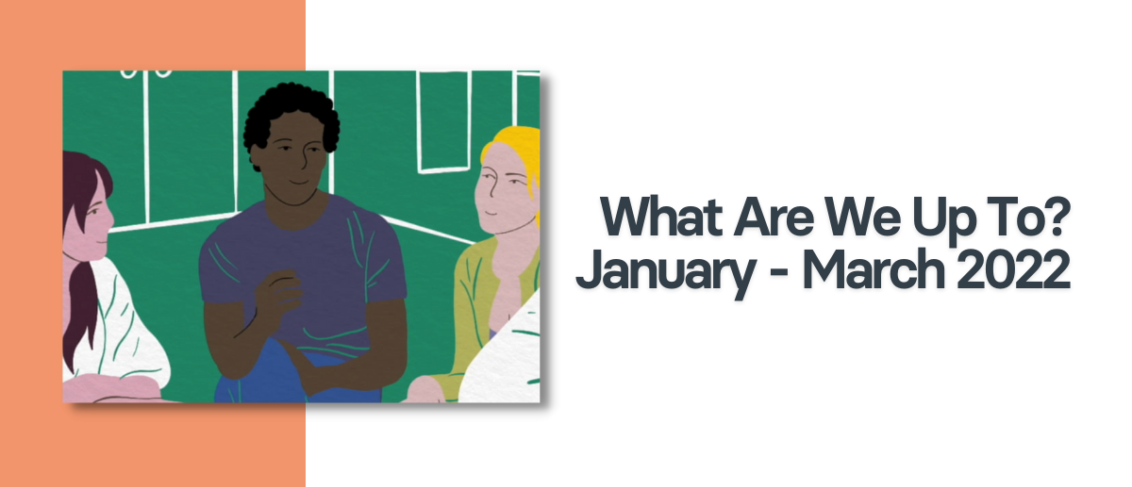 What are we up to? January – March 2022 Events
It's well and truly event season at Makematic. Here are just a few of the places you'll find us or we'll be at in the next few weeks.
NYHS Teen Program
Online, January - March 2022
We've been working with NYHS society now for over four years and this will be our third New York Historical Society Teen Program. The teens in the program work with staff at Makematic to produce wonderful stories about women in American history. The teens participate in online workshops, write and edit scripts, create storyboards and give the production team notes on visuals. At the end of the program the video becomes part of the New York Historical Society Women and the American Story Curriculum. You can check out the films we produced in partnership with them here.
SDG TeachMeet
Online, 11th January 2022
We love the SDGs and we're committed to helping educators explore them with their students in their classes. That's why we've decided to get educators in the room (a virtual room that is), to discuss ways to further SDG 17 - Partnerships for the Goals. Egon and Gianna will be facilitating this TeachMeet with Teachernerdz and Bitesize SDGs. The TeachMeet is an active workshop where participants will network, share and design. This event is SOLD OUT. However, you can still get access to the recording by signing up to our online community Teach SDGs. Sign up here.
Hosting #sschat Twitter chat
Using Media to Supercharge Social Studies
Online Twitter Chat Monday 17th January 7pm EST, 4pm Pacific Time
Since 2019 we have been working with the Driving Force Institute and various other partners, like iCivics, New York Historical Society and American Battlefield Trust, in the social studies space to create short form videos on Untold stories in American history. Tara will be hosting a Twitter chat with #sschat around a topic that we are Makematic are super passionate about using media in social studies. Join in, say hi and share how you are using the media to supercharge your social studies teaching. There will also be opportunities for those who attend to get access to some fantastic resources that you can use in your classroom too.
Crayola Creativity Week
Online, 24th - 30th January
Okay we won't be running any of these events, but we will definitely be getting involved. This is the first year that Crayola is hosting a creativity week to nurture creativity. Over the course of the week they'll be releasing five big in-school creative adventures, facilitating two weekends of creative fun and organising one big celebration. What's not to like about that? You can take a look at the Events Calendar here, it's a week that shouldn't be missed.
Learning Technologies
London, 9 - 10 February 2022
Jon will be attending to talk to a variety of different companies in the Learning Tech space. Take a look at the event here.
Research to Reader
London, 22 - 23 February 2022
Jon will be attending and has a presentation spot entitled "Video Content in the Academic Knowledge Chain" and will also be at the conference to meet academic and academic technology companies working in the space. Take a look at the link to the event here.
SxSWEdu
Austin, 7 -10 March 2022
Tara will be running a 90-minute workshop with James Wells from Crayola called Art and Animation to Spark Courageous Conversations. It's an open workshop around how art and animation can be used to spark courageous conversations inside and outside the classroom. They'll share the unique video resources they've developed to help educators and parents do this, and will facilitate a hands-on art-making experience to spark courageous conversations around diversity, inclusion and social justice. Check out the event here.
BETT
London, 23 - 25 March 2022
Jon, Mark and Beatrijs will all be at BETT, one of the largest EdTech conferences in the world. Over 1,200 EdTech providers attend and 60,000 visitors. If you want to meet any of them, make sure you do so by getting in touch before the event. You can find out more about the event here.
---
We're always planning different events and workshops throughout the year to better help educators use video in the classroom. Sign up to our online community Video Supercharged Learning so that you don't miss out on our future webinars/workshops/events, plus exclusive resources!
Let's Work together
We're a team of media professionals and educators that want to inspire a generation of global learners through smart, engaging educational content they love.