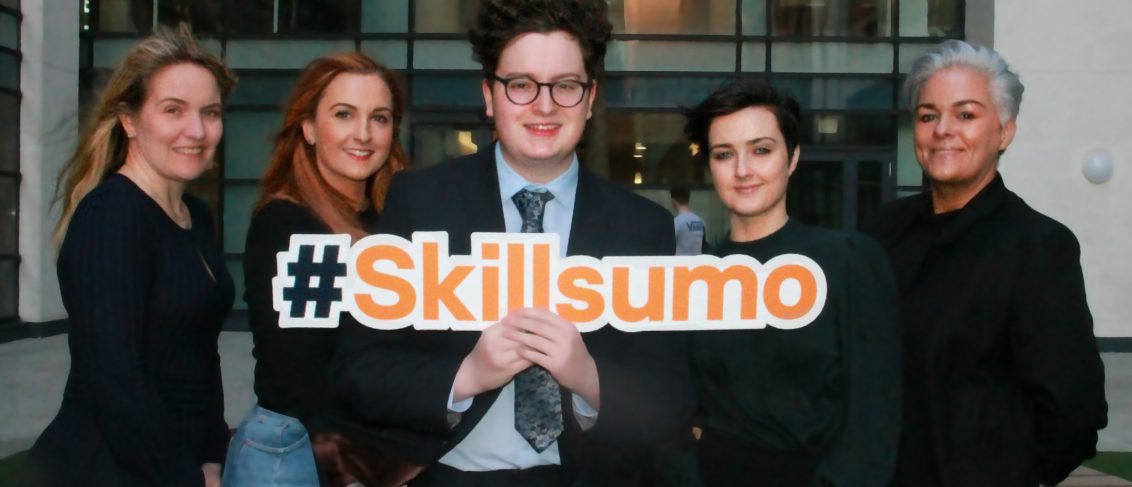 Makematic Partners With EY
Makematic and EY have partnered together to create a series of videos for our careers and employability resource Skillsumo.
Early this year, the Makematic team interviewed 8 members of the EY staff to share their experience of what it is like working for EY.
The five work inspiration and apprenticeship videos are aimed at young people and give them an insight into the world of work and workplace skills. They will also help careers leaders with careers guidance and education.
Eamon Kerrigan, Producer and Director of Skillsumo stated that….
"The team at EY were excellent to collaborate with because they knew what they wanted and conveyed it with precision. While filming, they provided us with a great environment to produce our best work, and the employees that we interviewed clearly enjoyed working there, and I believe that is projected in the final videos."

Working with Eamon was Production Coordinator, Rachael McNamee, Camera & Sounds Operator Fiachra O'Longain, Camera for B-roll Operator Colm Herron, Video Editor, Sean Curran and Sound Producer, Kevin Gillen to create and produce the videos.
Leanne Doherty, Business Development Manager (Ireland) said that...
"EY is one of those exemplary companies that really nurture their employees by not only developing their existing skills but also offering opportunities to progress within the company by either an apprenticeship or internship ensuring no-one feels left behind. It is evident within EY that no career is off limits and if you have the right attitude and mindset you can achieve anything. Sarah and the team were a pleasure to work with and Makematic looks forward to future collaboration with EY."
You can access Skillsumo at anytime online on your mobile or tablet through the Makematic app, which is available to download from the App Store, Google Play, Fire Stick and Roku. Or you can access anytime online through our website: watch.makematic.com. Skillsumo can be used by educators to develop inspiring and relevant careers lessons and provide timely and up to date guidance. Young people can also access the content to help them better understand the world of work and the key 21st-century skills that are relevant to the workplace.
Sign up to watch all the videos for FREE right now
Let's Work together
We're a team of media professionals and educators that want to inspire a generation of global learners through smart, engaging educational content they love.
Custom Projects
MakeMatic HQ
Video
Brands