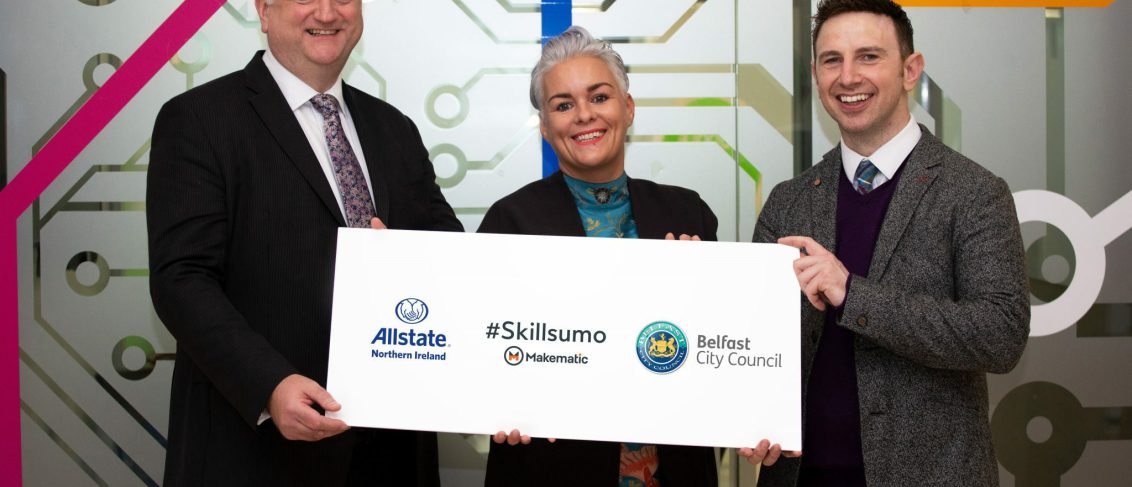 Makematic Launches Skillsumo: A Free Careers And Skills Resource
"Makematic intends to build one of the biggest video resource collection for careers and employability skills in the UK and Ireland."
Mark Nagurski, CEO and Co-Founder, Makematic

This October, we're happy to announce the launch of Skillsumo; a free career and employability resource for teachers, students and families.

Skillsumo is an evolving catalogue of bite-sized videos produced in partnership with regional businesses, local authorities and further and higher education institutions. With participating partners including Allstate, Belfast City Council, PwC, Adobe, NW Regional College, Unity Technologies, Southern Eastern Regional College Adobe, Learning Pool, Deloitte and The Bank of Ireland.

Skillsumo contains 100+ videos and animations across five main themes: Work Inspiration, Pathways, 21st Century Skills, FutureProof and Professional Development, with new content added to the collection each month.

The videos align with national benchmarks for effective careers provision, support curriculum-linked learning opportunities, give pupils an insight into the world of work and workplace skills, and help schools and careers leaders create a well-resourced programme of careers education and guidance.

"We're delighted to partner with Makematic on this free careers and employability resource. Ensuring everyone in Belfast fulfils their potential is a key part of our Belfast Agenda. We want our young people to excel – and in order for that to happen, they need our support in learning and achievement at home, in their community and in school through high-quality teaching, mentoring and resources. These bite-sized videos are the perfect way to ignite young students' curiosity and signpost them to further career and employability support. I look forward to seeing Skillsumo being widely accessed, and many dreams and ambitions being realised as a result!"


Chairperson of Belfast City Council's City Growth and Regeneration Committee
"In a system where learner choice plays an increasingly important role, it is even more important for people to access good information, advice and guidance on the likely skills needed by employers in the future and this is where the Skillsumo catalogue comes into its own."


John Healy, Vice President and Managing Director of Allstate NI
You can access Skillsumo at anytime online on your mobile, laptop and tablet. Educators can use it to develop a stable, well-resourced programme of careers education and guidance. Young people can access the content to help them better understand the world of work and the key 21st-century skills that are relevant to the workplace.

Sign up for free now at watch.makematic.com/skillsumo to get your careers and employability resource today.
If you want to partner with us to create content for the resource contact Leanne Doherty (Ireland) or Alex Watson (Mainland UK).

Let's Work together
We're a team of media professionals and educators that want to inspire a generation of global learners through smart, engaging educational content they love.
Education
Professional Learning
MakeMatic HQ