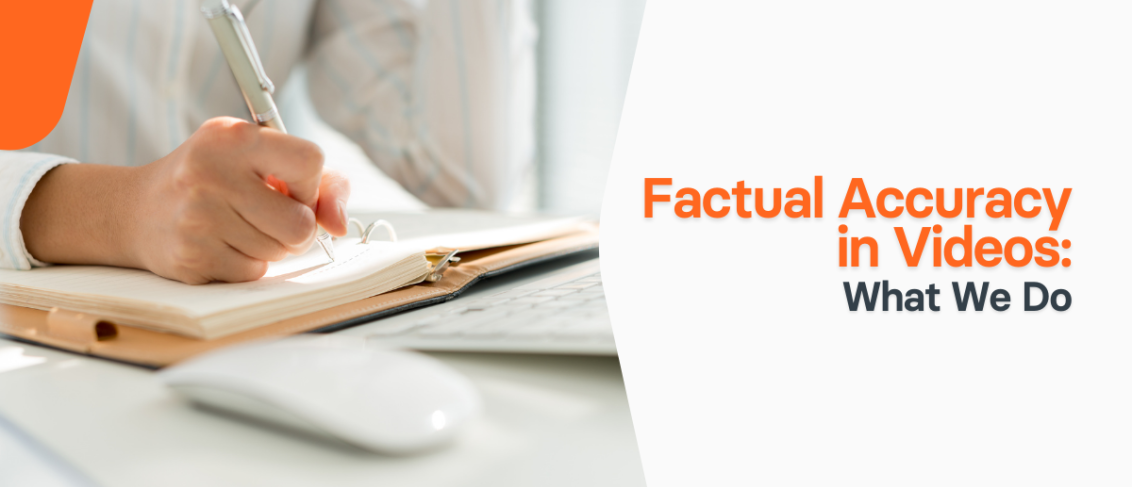 Factual Accuracy in Videos: What We Do
At Makematic, we always strive to create engaging, fun, educational content, but we also wish to educate and inform the viewer. Ultimately, it's all about finding the right balance, and for our factual productions, this means we need to make sure everything said and shown on-screen is correct. Here are some ways we ensure our videos are factually accurate.
Initial Development
Even from before we have the approved videos to be produced, our Development team goes through monthly brainstorming sessions, where they research and write learning-focused video synopses with a reputable source alongside. The most impactful are sent to our Clients for deliberation and selection. Everything written in each synopsis is probed factually and in regards to licensing. Even at this early stage, we believe a strong foundation is paramount.
Cheat Sheets
At Makematic, we have developed a pre-scripting process that tasks esteemed, Freelance, and Client-based historians to create an engaging research document to lay out all the fundamental historical elements within the approved video titles, while also placing those fun, quirky facts that can capture the imagination of our target audience. Ultimately, the cheat sheets should fast-track the script editor's ability to write a dynamic script and with our company's upscaling - this has become an efficient process implementation.
Fact-Checking
Once the script's gone through several adaptations with the clients, now's the time for the real fact-checking to begin. Our Insights & Innovation department, would analyse every line on each script and corroborate its factual statement to an online, visual, or written source from a reputable organisation (e.g. Academic university institutions). Anything marked by the team as factually inaccurate gets corrected before the animation phase begins. As a result, we also have a full log of the findings per script in case we receive feedback of a factual inaccuracy, which we can double-check all claims efficiently to ascertain whether it's credible.
Expert Consultation
Throughout all stages of production, we have esteemed experts who consult and aid in the writing process for our factual videos. From our Subject Matter Experts (SMEs) that provide valuable feedback throughout the scripting phase - to our esteemed Historians that we consult from the cheat sheet creations through to user feedback. Why not check out our blog regarding the Untold Experts!
Error Fixing
No matter if you're part of a large, conglomerate corporation or even a start-up company like us, there will always be an element of human error present in what you collectively create. During these very, rare times that we've noticed or been alerted to a factual error within one of our videos. We immediately fact-check the claims and if deemed true, we get an immediate plan engaged to fully correct the error. We want our content to stand the test of time and be used for generations to come which is why we always strive for full historical accuracy.
User Feedback
We love feedback, they provide us an opportunity to re-evaluate the content we've made and improve them going forward. At Makematic, we run & host numerous design sprints, student workshops, and conferences aimed at providing an opportunity to receive feedback from our target audience and educators. The content we make is for the viewer at the end of the day, and we always strive to remember this and make sure we continue to make effective, educational content for all.
---
We love the content we create and we hope it shows through the videos themselves. Why not check out the Untold collection for which these processes would apply amongst our other factual productions in our VOD.
Let's Work together
We're a team of media professionals and educators that want to inspire a generation of global learners through smart, engaging educational content they love.