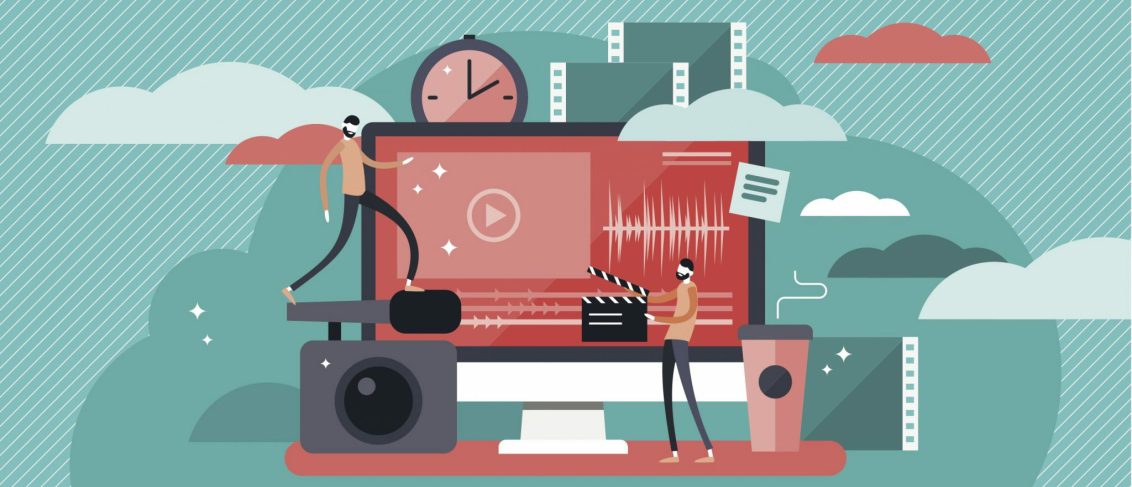 Coming To A Device Near You Soon - Part 2
In my last blog, I talked about my experiences of attending online conferences recently instead of in person. Since then I've again been at an online conference, Futurebook, but this time sitting on the other side of the fence as a presenter.
Before I go into that, I became curious as to what the origins of online and virtual events are. This year we've all just flicked a switch and adapted because of the Covid crisis, but when did online conferences first start?
I thought a quick internet search would help me find an immediate answer, but it seems that the origins of online and virtual conferences are a little hazy. Turning quickly to Wikipedia, the first-ever publicly described reference to a "virtual tradeshow", was in a presentation to investors at the Waldorf Astoria Hotel in NYC in April 1993 by a company who are now Onstream Media. They had an HTML map to which they'd attached videos of exhibition stands and presentations which could be accessed online. Thereafter there were further developments in the 90s but not a lot of information exists until the early 2000s. Internet bandwidth had grown enough to support simultaneous video, voice and text in one call, and in terms of actual virtual conferences, after the economic crisis of the early 2000s, companies looking to tighten their belts, started attending virtually instead of in-person and the whole concept took off.
At Futurebook last Thursday, I chaired a panel entitled How publishers have turned to video. I'm very grateful for the contribution made by my esteemed panel members, Paul Chen from Wiley, Sam Dumiak from Cambridge University Press, Matt Kibble from Bloomsbury Publishing and Justine Piekarowicz from Richmond ELT.
We covered a wide range of subjects on how publishers are using video content, both licensed and commissioned, original footage and animation. Each panel member brought a unique viewpoint to the conversation.
Video Is Here To Stay
The main overall conclusion was that for the publishing sector, the amount of video in online products which a consumer in any publishing sector expects is rapidly increasing. The publishing 'niche' is mirroring mainstream trends.
Therefore, those publishers who want success in the online world, are also rapidly increasing the amount of animated and live-action video content that makes up their digital portfolio of content.
How To Ensure Success?
By accepting that video plays a rapidly growing part in any publishing portfolio, then the necessary steps can be taken to put in place a strong strategy with short, medium, and long-term goals. All evidence suggests that video content is fast becoming a preferred medium for consent consumption for those under the age of 30. Recognise this, plan accordingly and thoroughly because in a truly multimedia world many others, who you would not see as traditional competitors, currently are.
How Are You Currently Budgeting?
Budgeting for video is different from that of print or other digital products. The amortisation of video as an asset is something new to which publishers need to adjust. Start with an understanding of the ROI and work backwards. Those publishers who are adjusting their business models accordingly are the ones who are capturing and captivating a new video-content orientated consumer. Plan your product investment for future success.
Developing A New Workflow
The workflow for producing video is vastly different to that of published content. Key changes will need to be incorporated, particularly around publishing programme timings, because short-form video, animated or live-action, takes a period to produce. Talk to and engage those with the knowledge that you need and incorporate the necessary changes to ensure future success.
Defining What Is Right For Your Audience Is King
Video-based social networks such as TikTok owe their continued success to low-production-value video shorts uploaded by users. This shows that defining the right look and feel for your audience is king. Broadcast quality can define a brand, more social media-friendly formats can help build digital product audiences even with lower production values. It is key to define what is right for your brand and your digital product audience. In the overall process of building out your video portfolio, the idea of 'quality' should be separated from production standards. A current style of social media format may have a limited shelf-life so finding the "right quality" is what leads to engagement and impact.
Creativity & Engagement & Fun!
Keeping a digital product fresh and new is a new challenge for the publishing sector and short-form video offers an opportunity to excite and engage your consumer, whomever that consumer is. So, use it as an opportunity to do just that. Video content allows boundaries to be pushed and can inject a big slice of fun. Whether it's bringing children's reference and drama content to life, injecting short informational films into an ELT or schools education programmes, explaining complex research papers in a quick two-minute overview, or helping someone cram for law, accountancy, finance or business exam, video is the perfect medium for captivating an audience.
What Is Your Overall Strategy?
As we have seen with the effect of the pandemic this year that having a solid digital strategy for your systems infrastructure, content portfolio and content blend is key. Whilst we are facing challenging economic times, many in the publishing world are seeing the true size of the digital opportunity the power of carefully created and disseminated short-form video content.
All last week, throughout the sessions at Futurebook, a lot of coverage was made of the explosion in importance of audio content and we are about to witness the same with video content too.
Let's Work together
We're a team of media professionals and educators that want to inspire a generation of global learners through smart, engaging educational content they love.