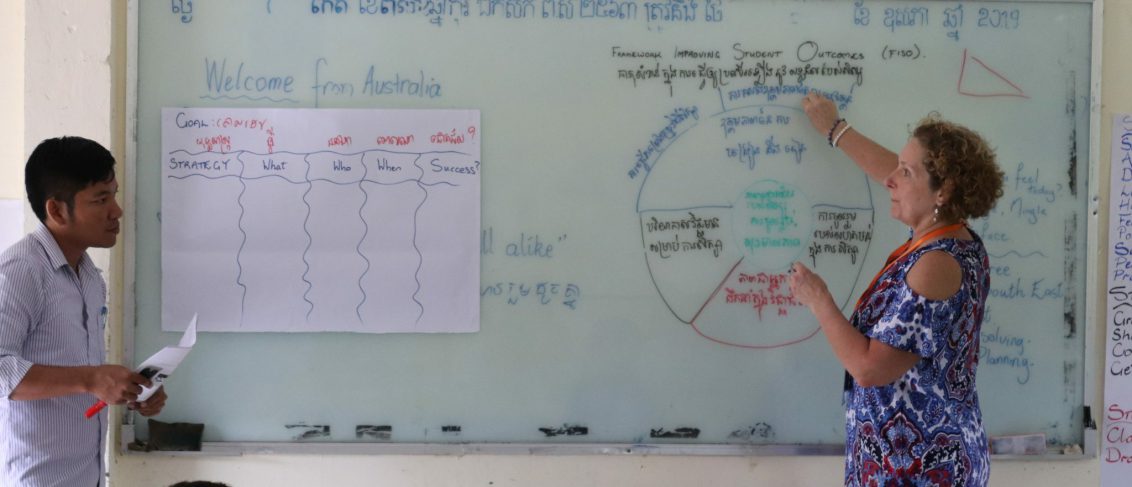 Makematic Video Case Study: Teachers Across Borders Building Educator Capacity in Cambodia
This case study showcases the work being done by non-profit Teachers Across Borders to build capacity in Cambodian Educators, and how they used Makematic's global education professional development content to help them do it.
Overview/ About
Founded by Brian Allen (Order of Australia) in 2006, Teachers Across Borders Australia (TAB) is a not-for-profit organisation that brings volunteer Australian educators to train and empower Cambodian educators through their face to face workshops.
TAB Australia trains early career, practising teachers and leaders in the best practice educational approaches aligned with existing educational research. Their approach is one of information exchange, centred around content-specific knowledge, pedagogy, active and student-centred learning approaches with an overall theme of the United Nations Sustainable Development Goals.
Challenge/ Problem
Improving the Teacher Induction for Train the Trainer Programme
Inducting volunteer teachers is time-consuming. There can be as many as 30 educators that need to be inducted in each cohort, often across states and even continents. Cohorts of volunteers visit Cambodia twice per year.
In the past TABs coordinators have met with volunteers individually to do a face to face induction. This is challenging as coordinators work full time. Therefore, moving the induction process online:
Enables core TAB coordinator to spend more time developing partnerships, networks and resources
Means a more consistent approach to induction
Volunteer meetups can be done using web-conferencing tools such as Zoom or Skype.
The new induction programme currently lives on Google sites, and will soon move to the learning platform Cahoot.
Modules with videos and reflection activities are used in the induction process to prepare volunteers for their time in Cambodia. This serves the dual purpose of screening participants, inducting them and preparing them for the complex work they will be asked to carry out whilst in Cambodia.
The focus of the video content is on the following topics:
Pedagogical approaches = what makes our approach to education in Australia something worth sharing and what features makes it distinct. Some examples of the videos they included in the professional development series include, videos created by Makematic and Participate:
Cultural understandings = things to be aware of, cultural practices to avoid and be aware of when teaching across cultures.
Workshop specific content = things to consider as participants prepare content and consider the way they will apply principles of andragogy to their work
Results/ Impact
Teacher Induction Programme
The induction process is now a more streamlined process, and less time is now spent wasted on covering and re-covering core content. Teachers have a greater awareness of issues they may face and better plan for their workshops. In the past this has been done almost entirely without any oversight or guidance from the organisers or the executive board. Overall teachers are better prepared for the programme.
Programme Overall
"Since our inception as an organisation we have trained over 5,000 Cambodian teachers to become more confident professionals. This has included numerous teachers moving through our teacher workshops, to become 'train the trainer' participants and finally culminates in these inspiring and aspirational teachers running their own workshops within the program. For many of these educators this progression has also, as a bi-product of hard work and support, in places as Principals and officials within the Ministry.
Indeed we have helped to facilitate more than 40 Khmer lead workshops and this number has grown steadily along the growth of the program. Our feedback and evaluation forms are routinely glowingly positive and constant improvement has occurred as a result of these feedback processes. Our latest and greatest achievement has been completing our last Battambang program after 13 years, as a result of reaching the level of professional development that we planned for that region. We look forward to continued work with Cambodia and other regions, both within and outside of Cambodia where this type of capacity building and development is most needed."
Steven Kolber, TAB
Conclusion
TAB plans to phase out the work they have been doing when the Khmer teachers and presenters will also start organising their own events to develop each other in an open way. In the long-term TAB may continue their work in a supportive role to allow the promotion, organisation and development of the teachers. Their "greatest goal is to become irrelevant in Cambodia as the system has developed so far that we are no longer necessary."
TAB is willinging to consider other countries that have noted a need for the professional development of teachers. That's because they believe in the power of committed individuals assisting others to bring about large and long lasting change.
Let's Work together
We're a team of media professionals and educators that want to inspire a generation of global learners through smart, engaging educational content they love.
Education
Insights
Video
Case Study
Get the case study