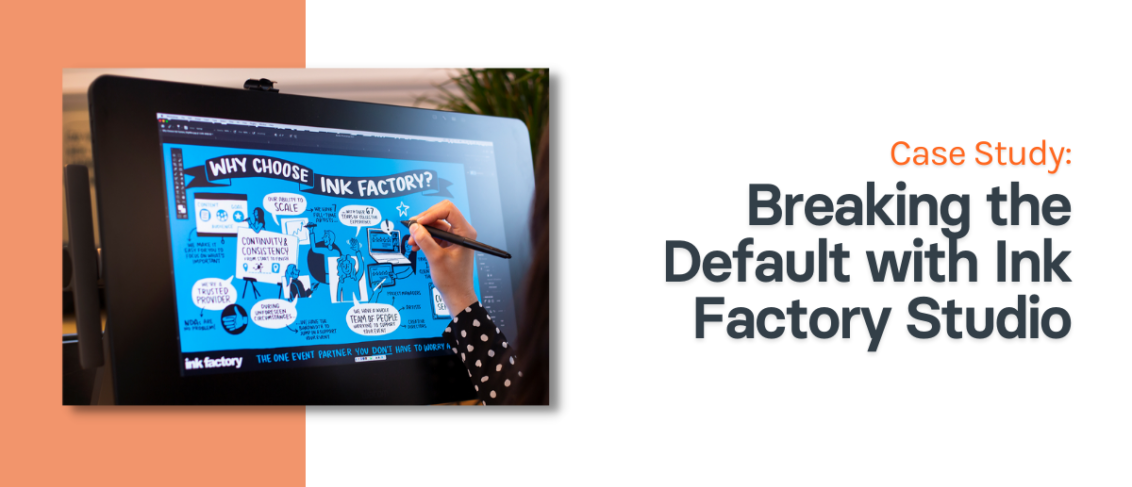 Breaking the Default with Ink Factory Studio
"We're setting global standards in the quality of our content. So it's important that we upskill in the areas of diversity and inclusion and fully embrace this visually in our animations and characters."

Catherine Davies, Co-Founder, Makematic
Background
Over 2021, Makematic has been working with teams around diversity and inclusion, staff have participated in a number of initiatives company-wide. As part of the company's push to ensure this issue remains at the heart of what they do, the animation team participated in an online practical workshop called Breaking the Default. Organized by Founder of Ink Factory, Dusty Folwarczny, and virtual workshop was led by Sarah Goone and Alison Vellas.
Who is Ink Factory?
Founded in 2011 by Dusty, Lindsay, and Ryan, the Ink Factory Studio empowers organizations to communicate visually. They've worked with a vast array of organizations, (from Fortune 100 companies to non-profits) bringing their ideas to life with the help of visual note-taking. The methods they use to help businesses in every corner of the world are constantly evolving thanks to new technology, techniques, and thought-provoking creativity. But one thing remains constant–their mission - to create visual experiences that inspire and engage.
"When Catherine and I first spoke about this workshop, I heard a fellow small business owner wanting to do the right thing and help her team upskill. While Ink Factory is not an expert in diversity, equity, and inclusion, we are involved in reflecting information and data as it is presented to us in our visual language. And it's very important to us that we do this through a DEI lens. Our team of artists each developed a large character library that is representative of underrepresented folks in our world."

Dusty Folwarczny, Chief Visioning Officer, Ink Factory Studio
Makematic's Why?
"Given the nature of the content we produce, I believe it is important for us to be mindful of correct representation of diversity and inclusion."

Sree Kadalayil, Director of Animation, Makematic
Makematic work with organizations all over the world to create educational content that is representative of the audiences they are aiming to inspire. But we know that subconscious bias sometimes gets reflected in our artwork and an awareness of that was important as a learning experience. Collaborating and gaining such experience from another studio whose primary focus is diversity and inclusion helped us grow as an apt and fair content provider.
The Workshop
The workshop was chaired by Dusty who started by introducing herself, her colleagues and her company and what they do. She then passed it on to her colleagues Sarah and Alison who talked us through the ethos and objective of the workshop. The screen was split to visually illustrate the various points being discussed through the workshop; about character designs, importance of correct representation of gender, race, orientation and abilities. At the end of the workshop, we were encouraged to engage in a Q&A and an assignment to take home.
Key Learning
"The subconscious bias that I have in my art and in my professional work was a wake-up call for me. I never realized how underdeveloped my thought processes were when I was doing design. Including more diverse characters and learning how to properly research and make sure representation was accurate was one of the best things I learned in the workshop."
The animation team were blown away by the workshop and really found the learning powerful. Learning to break down the building of the character and looking at it through a new lens, helped open the team's mind on ways they could breathe new and diverse characters. Having an open conversation around some of the anxieties the team felt about representing diversity, helped the team push through their own biases and defaults. Talking about this was refreshing as it's a topic that isn't spoken about enough.
Implementation
How has the learning from the workshop been implemented?
The animation team is now deliberately mindful of diversity and inclusion in the content that's being produced. More than ever, the videos feature characters of different ethnicities, gender, age, sexual orientation and ability. And most importantly correct representation has been given to characters while being aware of any subconscious bias that may appear.
Next Steps
To ensure that inclusion and diversity are front and center in the minds of Makematic's animation team this is what the team intends to do to make sure that is the case:
Monitor the consistency and volume of diverse representation within each project and video output going forward to ensure that diversification and inclusion is being fully embedded.
A bi-annual review/renewal training for the animation team in order to assess progress.
Feedback and guidance from representatives of different ethnicities, gender, age, sexual orientation and ability.
Ensuring that the content that Makematic produces represents the world in which the audience lives, is very important. Other initiatives in other teams will continue to take place this year and beyond. These changes will continue to be monitored through the engagement with the Makematic community, via user testing and insights, and fed back to the team to show just how impactful this workshop has been.
Let's Work together
We're a team of media professionals and educators that want to inspire a generation of global learners through smart, engaging educational content they love.